The early days of Chorley & Leyland Seasiders
History of Chorley and Leyland Blackpool Supporters Club
The club was formed in March 1970 to help BFC fans living in and around Chorley and Leyland get to Blackpool matches. In those days membership was between 150-200 people and the club President was Jimmy Armfield. The first organised coach trip was to Blackpool v QPR on the 4th April 1970.
With travel to matches the priority the Club coach started in Horwich and picked up in Adlington, Chorley and Leyland. For the long distance away games we shared coaches with the old Lancaster and Morecambe branch or the old Supporters Club.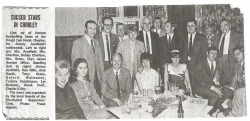 As Club President Jimmy Armfield attended many of the events held by the club. These monthly events included, talks from local referees and sports people, games nights and fashion shows. The fashion shows were mainly attended by the wives and girlfriends of members and were a big success.
The club took part in all events organised by the Old Supporters Club and members attended dinner dances organised by other supporters groups. The club held big events when Blackpool FC had things to celebrate these included promotion to the old First Division, winning the Italian Cup and a special tribute night to Jimmy Armfield which the football club management and players all attended. Jimmy Armfield remained our President until he was appointed manager of Leeds Utd when he officially resigned.
Throughout the years member numbers reduced as people started to make their own way to matches. As a result of this it was decided to cancel coach travel to home games and concentrate on getting fans to away games. This resulted in a slight geographically shift for the club as the members gradually changed with newer members often living in the Blackpool area. Since 1998 our coaches have started from The Castle Pub in Carleton. However we are the same club and have retained the same name.
The club knows of 5 members who travelled on that first coach in 1970 who were still supporting Blackpool at the end of the 2018-19 season. To continue to meet the needs of members the club is still providing coach travel to all BFC away games.